"I absolutely love these metal bowls. They're so cute and functional! My cat hasn't thrown up in a couple of days now.. She was throwing up every day. Super easy to clean too!"
NAOMI P.
Anti Vomiting & Reduce Neck Burden For Your Cat Now!  
 Anti Vomiting: Elevated cat bowl puts a cat's mouth at a suitable position in relation to its stomach. It helps cat swallow more easily and alleviates their occasional vomiting!
 No more cat chin acne: Made of Nanometal. Easy to clean and dishwasher safe.
 Tilt Angle Design: Our tilted cat bowl keeps food piled. It helps keep the food from being pushed off the bowl. Easy for your cat to eat.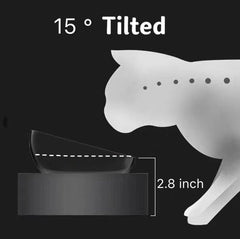 Reduce Neck Burden: Our cat bowl has the right height, allowing your cat to eat in a more natural neck position. Now your cat could sit and eat quite comfortably.
 Recommended by vets and pet care professionals.
 Cat parents LOVE Our PurBowl! Check it out:
>> NOT Sold In Pet Stores! <<